Tasting Pommeau
When and how to taste it ...?
Serve cold, between 8 and 12 °C (46 and 54 °F), in a wine or port glass.
---
As a general rule, Pommeau can be matched and tasted like a port.
• As an aperitif :
- straight
- in a cocktail: pommeau can be used with calvados in some cocktails
Cocktail Le Normand • More cocktail recipes containing pommeau >>
• During the meal:
- to accompany melon
- to accompany foie gras
- to accompany sweet and sour and Asian dishes
- to accompany cheeses from Normandy (Camembert etc) and blue cheeses
- to accompany desserts based on apple or chocolate.

No wine can rival a Pommeau or a Calvados as a match for an apple dessert.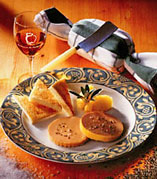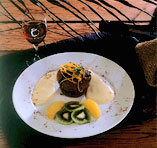 ---
Pommeau in cooking
Pommeau Sauce: Melt butter and sugar in a pan without letting it colour. Add water and pommeau. Bring to the boil and remove immediately from the heat.
Deglazing with Pommeau : When the food is cooked, tip the Calvados into the pan while it is still very hot, stirring/shaking to combine the Calvados with the cooking residues. Pour hot over the cooked food. Serve at once. Pommeau being a bit sweeter than Calvados, adding a touch of cider vinegar could give a better balance.
Recipes:
Recipes with pommeau: oysters, scallops, rabbit, monkfish, veal, guinea fowl etc.

• Recipes... >>
---