The Famille Dupont Family estate
The best ciders deserve as much care and attention as the best wines
The Famille Dupont Family estate consists of 30 hectares (74 acres) of orchards in Normandy, in the heart of the Pays d'Auge region. The estate produces ciders, pommeau and calvados.
---
For more than 25 years now, the Estate has resolutely followed a path towards high quality. By drawing on the best techniques used to make cognac and its great blends, Etienne Dupont has studied, tried out and refined his cellar work to reach the same levels of elegance and expressiveness as found in the best wines.
Some of these techniques, such as manual sorting of the apples, and even working with an oenologist are found only very rarely in the making of cider. But just as for wine, the quality of the apples is still the first essential step. It is only after this that the creation of cider can make the most of the apple and its terroir.
---
Specialities of the estate: Ciders bearing a vintage date... a cider blend aged in oak... a blend using traditional methods of making sparkling wines... an apple "sweet wine"... cask strength calvados.
Thanks to their qualities of elegance and authenticity, the ciders and calvados from the Domaine Dupont are nowadays appreciated in many countries world-wide. A very great majority of its production goes for export.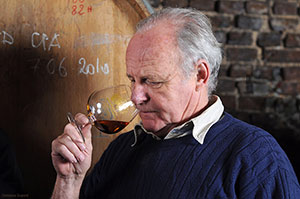 See the video on YouTube...
---
---
The history of the Dupont Family in the Pays d'Auge region in Normandy goes back for more than 3 centuries. The oldest known archives testify to the birth of Pierre Dupont in 1703.
---
In 1887, Jules Dupont arrived as tenant farmer at La Vigannerie, the old name of the present estate. In parallel with his cattle raising activity, he produced cider and calvados. Thanks to his sales of these, he was able to buy La Vigannerie in 1916.
---
His son, Louis Dupont, succeeded him in 1934. He continued his father's business of cattle raising. He also produced calvados which he sold in bulk to local merchants. When he died in 1974, his wife Colette, with the support of the family courageously assumed control.
---
It was in 1980 that Etienne Dupont took up the reins of the family estate, thus succeeding his father, Louis. He extended the estate, concentrating its activities around cider and calvados production. The old orchards were redeveloped and ten further hectares (24 acres) of low growing apple trees were planted. He went to Cognac to immerse himself in the best techniques of double distillation. Etienne Dupont is behind the creation of the appellation contrôlée A.O.C. Pays d'Auge.
---
In 2002, his son Jerome Dupont joined the family estate of which he became the director, in partnership with his sister Anne-Pamy Dupont. The modernisation of the state continues always driven by this insistence on quality and this inventiveness, which characterises the Domaine Dupont.
Jerome Dupont died prematurely on 15 August, 2018.

---