Art
Dupont Ciders and Calvados inspire artists...
"Presence of all of us at this central point, I illustrated the time of a tasting at the shop. I wanted to please the team, its dynamism and dedication to the estate captured all my attention. My painting uses to evolve according to what I live in my thoughts and in my life at the moment of the work. On this one, the roses of the estate have grown in importance as I wanted to cover the central window for more relief and less symmetry between the two glass doors of the shop. While the roses were more on the right of the table, they finally rose in a central vertical way. After the 15th of August, these luminous and peaceful white roses were no longer blooming only for the beauty of the estate: in my mind, they were blooming in the memory of Jerome Dupont. The more and more elaborated verticality jumped to my eyes to mark the presence of a so much regretted director. Because everyone's life must continue, these roses, the nature, which remains with all its strength, with so much majesty and generosity, are here to remind us the living presence of those we love." Nathalie de Chaumont
Visit artist website: nathaliedechaumont.com
---
Author: Hiro Higushi, Japon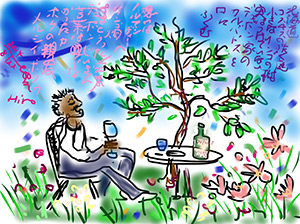 ---
Author: Galen Mercer, U.S.A.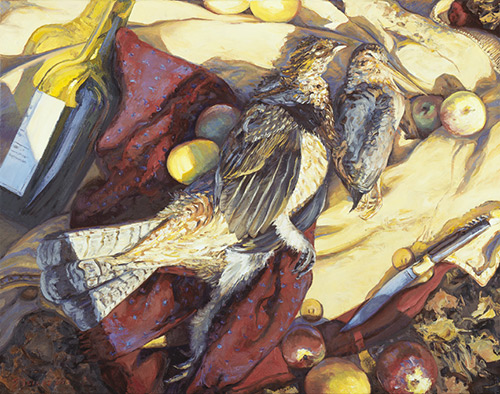 ---
All rights reserved. Contact the authors before any use.